by Thomas Miller – Food Blogger / Restaurant Critic for Vero Vine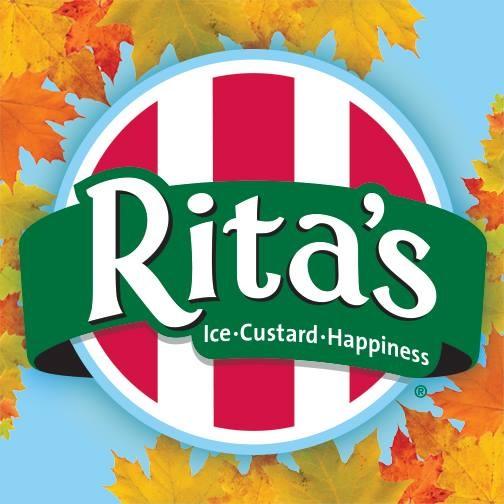 As someone who lived in the Midwest for most of his life before moving to Vero, I got to experience the changing of the seasons.  Spring, Summer, Fall, Winter, and the "Ice Cream" season.  What is the "ice cream season" you ask?  Most of the really good ice cream places tend to close up for winter since their products are not in high demand year round, especially when temperatures are below freezing outside.  One of the advantages of living in a warmer climate is we don't have to suffer through the "ice cream" season and wait for the good ones to open back up in the spring.  Living in the south and a warmer climate definitely has its advantages.
My next tasting experience takes me over to Rita's Italian Ice.  They are located off of US Hwy 1 in Vero Beach.  It's nestled back in a shopping center near Five Guys Burgers and Fries.  I have to admit, I've not personally tried Rita's because I did not think I would be a fan of the Italian ice.  I'm not a fan of snow cones, so I made the assumption that I would not like Italian ice either.  I could not have been more wrong.  The texture was WAY different that I was expecting and with the added custard or flavorings, it was smoother and creamier than I thought it would be. I was really surprised how good it was and how much I liked it.
Let's dive right in and see what this place has to offer and what I had to eat!
Mango Vanilla Gelati – ($3.91 Inc Tax) – A Gelati is a combination of a flavored Italian Ice in the bottom of the cup, then it's topped with their soft serve custard.  First off, the vanilla soft serve custard is fabulous!  It's very smooth and creamy.  It has a higher fat content than regular ice cream does which helps give it that luxurious texture.  We ended up digging around the custard to get down to the mango Italian ice in the bottom, and it was really good too.  I can see why this is a top seller and a customer favorite!
Lemon Misto – ($4.33 Inc Tax) – Doesn't that look like it would be refreshing on a hot day!  It's made with Italian ice, real lemon with chunks of lemon peel, and a vanilla custard cream all blended together.  The flavor was bright and refreshing, and the texture was like a creamy slushy.  The vanilla custard, in this case, was more like a flavored heavy whipping cream, instead of the frozen soft serve custard, which made it easier to drink through a straw.
Brownie Sundae – ($5.62 Inc Tax) – I was excited to try this next one since brownies are one of my favorite desserts!  This is made with their vanilla soft serve custard, hot fudge, chunks of brownie, mini chocolate chips, whipped cream and a cherry on top.  The custard was smooth and creamy, the hot fudge was warm and delicious, and the chocolate chips added a nice texture variation.  The brownies had that satisfying chewy texture we all love about them, just like the little one bite brownies I think all of you foodies know about.  Hands down, my favorite dessert of the night!
Pumpkin Vanilla Gelati – ($3.91 Inc Tax) – In keeping with the time of year, Rita's is offering this seasonal customer favorite!  It's made with a pumpkin spiced Italian ice in the bottom of the cup, and their vanilla soft serve custard  on top.  The pumpkin spice flavored Italian ice seems to be a little bit creamier than I expected it to be, and the flavor was just right.  This holiday treat won't be around much longer, so be sure to stop by soon if you would like to give it a try!
Blendini – ($4.44 Inc Tax) – Most every ice cream shop has their own version of this popular treat, and Rita's is called the Blendini!  This is made with their vanilla soft serve custard , mint chocolate chip Italian ice, and Oreo cookies all blended together.  While it was thick and required a spoon to eat, it seemed a little bit lighter than others I've tried at the other competitors, and I think that is due to the addition of the Italian ice blended into it.  It was still rich, thick, and delicious, but not as heavy as you might expect.
In Conclusion:
Rita's Italian Ice is definitely a contender with all of the other "ice cream" shops that we have around town.  Their custard and Italian Ice are second to none, and they definitely have a lot of variety for you to choose from.  My wife is a huge fan of ice cream, so we go out for it on a frequent basis.  Now that my misconceptions about Italian ice have been debunked, I definitely think Rita's will become a regular stop for us when we are craving  sweet Italian treats!
Have you tried Rita's Italian Ice?  What has your experience been with them?  Sound off in the comments below and let me know your thoughts, or feel free to email me at thefoodguy@verovine.com with your questions or comments.
Atmosphere – 4 Forks
Service – 4 Forks
Food – 4 Forks
Ratings Scale Legend:
1 to 5 Forks – 1 Bad to 5 Excellent
Address:
1355 US-1 #9, Vero Beach, FL 32962
Hours:
| | |
| --- | --- |
| Wednesday | 12–8PM |
| Thursday | 12–9PM |
| Friday | 12–9PM |
| Saturday | 12–9PM |
| Sunday | 1–8PM |
| Monday | 12–8PM |
| Tuesday | 12–8PM |