by Thomas Miller – Food Blogger for Vero Vine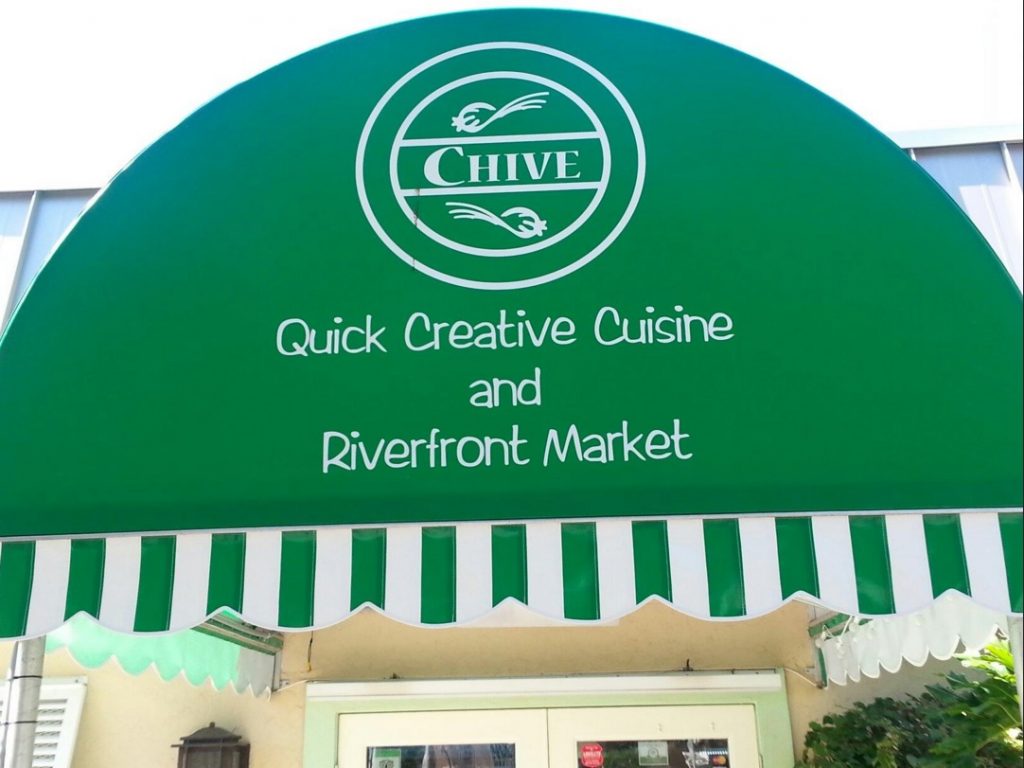 I remember my first dining experience at Chive being a little bit overwhelming due to all of the choices they had to offer, but that is not necessarily a bad thing!  The owners, Lou Kolbauer and Travis Beckett both have diverse backgrounds in food and cooking from other restaurants they worked for and from where they lived previously.  They soon got bored with cooking the same old same old for someone else, so they joined forces and Chive was born!  This is one review I was really looking forward to!
My wife and I arrived for a late dinner around 7:00pm on a beautiful Tuesday evening and the line was out the door!  The line moved pretty fast considering and we got up to the counter to place our order in less than 15 minutes.  We decided to try two different dishes off the menu and share them.   We ordered The Mexican Wedge Salad and The Ninja.  We then took a seat in the dining room at a high top table and wait for our orders to be made.  The dining room is quite large with lots of seating options.  The walls are a pale greenish/blue color with very colorful paintings on the walls to add some color to the room.  The room was at about 50% capacity and was not to noisy, considering it was kids night.
Our food has just arrived, so let's dive right in and take a closer look!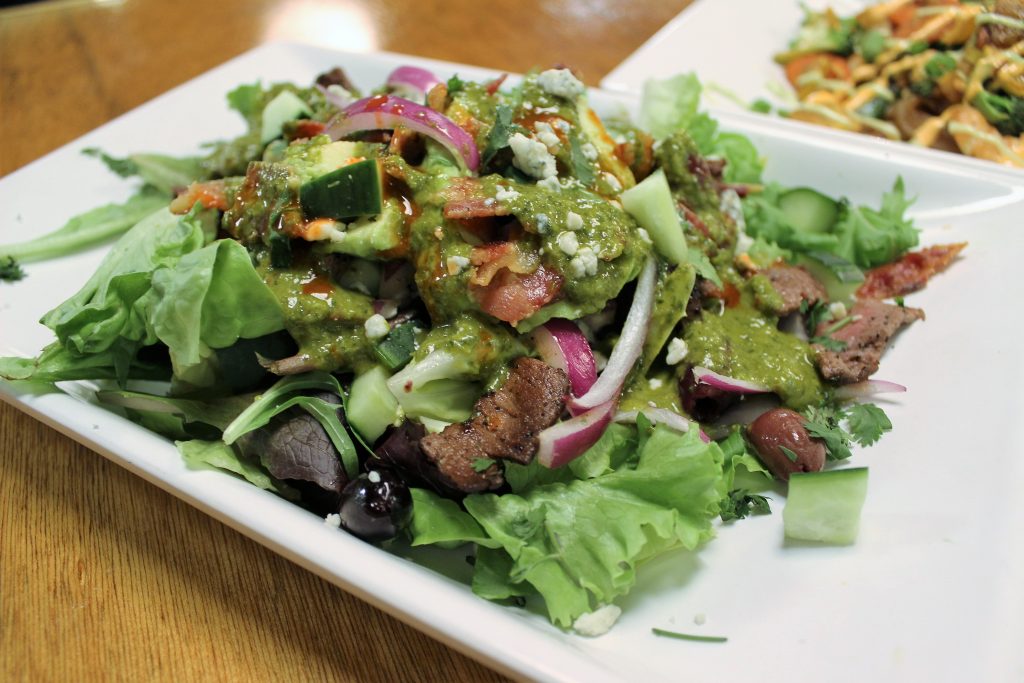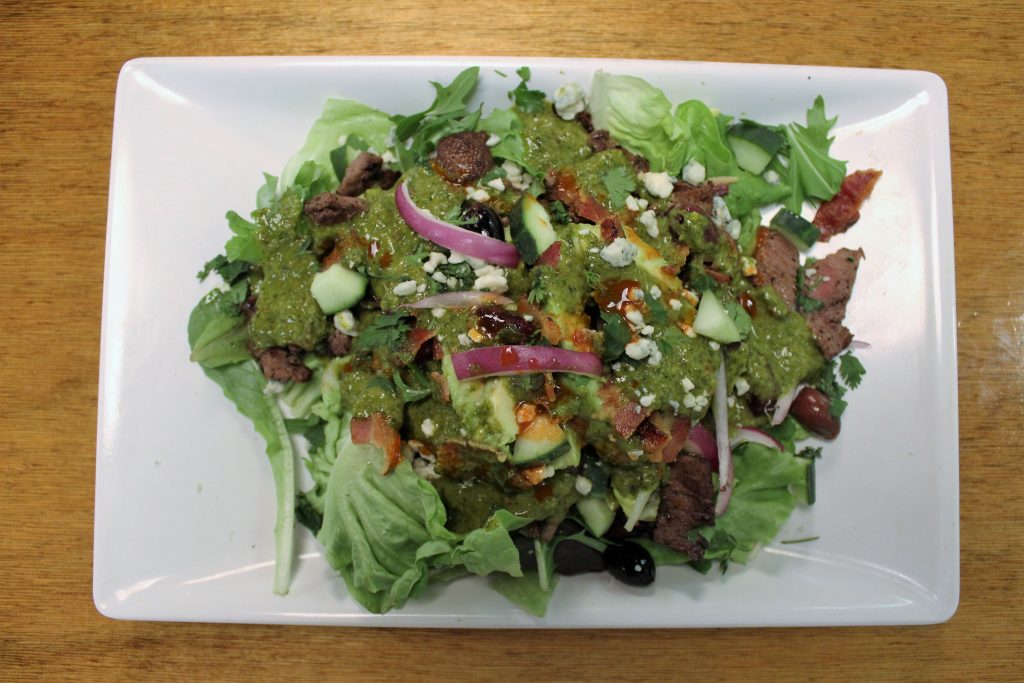 The Mexican Wedge Salad – ($12.99) – This is not your typical wedge salad you would get at a steakhouse.  First off, it's not actually made with a lettuce wedge, which is great, because they are difficult to eat anyway.  The diversity of ingredients in this salad is staggering!  It's made with Butter Lettuce, Marinated steak, Craisins, Almonds, Bacon, Avocado, Red Onion, Cilantro, Blue Cheese Crumbles, Chimichurri and Peri Peri Hot Sauce!  First bite was an explosion of flavor from all of those ingredients!  It was tangy from the chimichurri, slightly smoky from the bacon, the red onion added a nice crunch,  and the steak was very tender!  The only thing I my wife and I did not care for was the saltiness of the olives in it.  They were not listed on the ingredient list, so it must have been a somewhat recent addition to the dish.  We found them to be a little too salty for our tastes.  Overall this is a very well executed salad!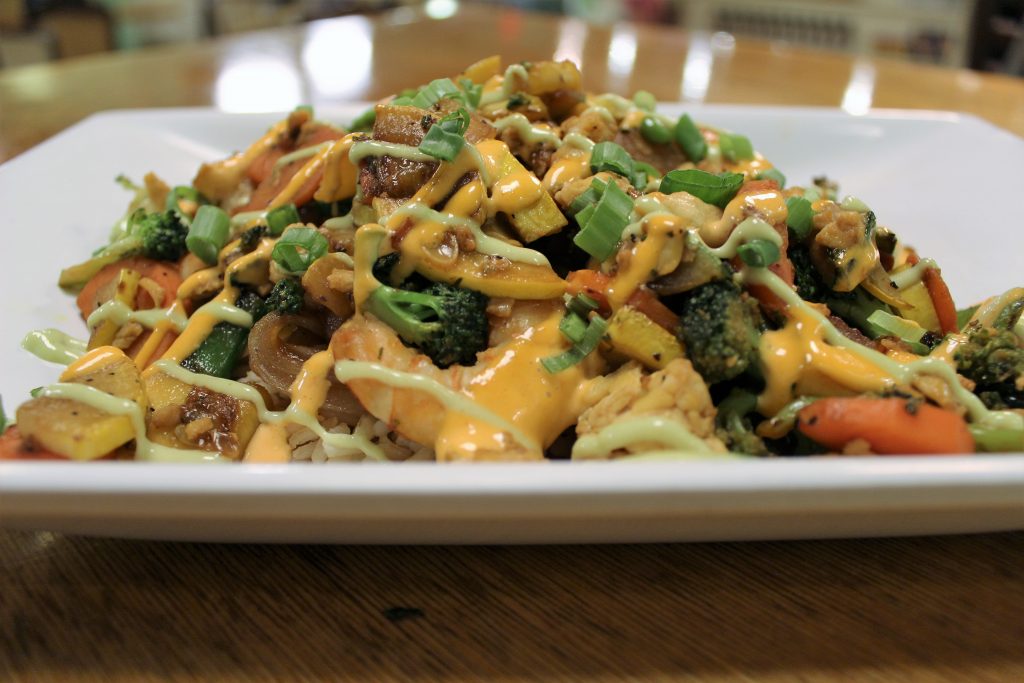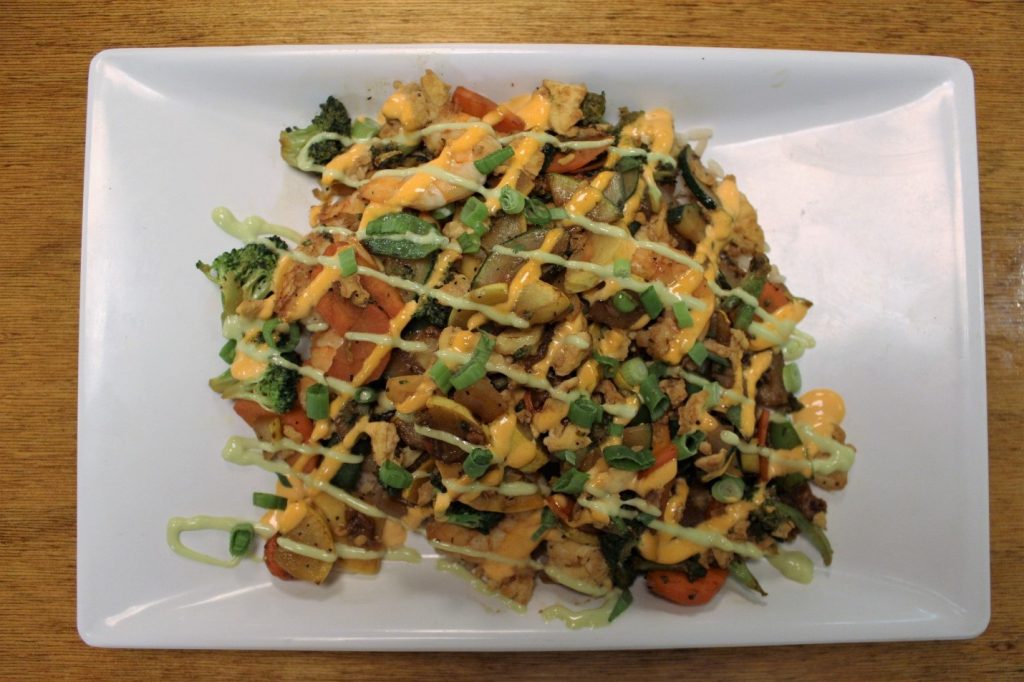 The Ninja – ($12.25) – First impression was that this was a visually stunning dish!  All of the colors from the different ingredients, plus the two different aioli's crisscrossing over the top, very nicely done!  It contained Rice topped off with Caramelized Onions, Stir Fry Vegetables, Sautéed Shrimp, Scallion, Judo Chop Sauce, Sriracha & Wasabi Aioli and scrambled eggs.  First bite impression had me thinking it tasted similar to a fried rice, but way more complex with everything that was going on in this dish.  The shrimp were cooked perfectly, the vegetables were cooked and seasoned to perfection.  I was worried about the two aioli's being too spicy, since my wife does not like anything hot.  To my surprise, there was no heat at all from them, only some added flavor.  The only thing that I did not like about this dish was the broccoli, but that is just my personal preference.  I did try it, and it was not too bad when combined with everything else in this dish.  This was our favorite of the night!
In Conclusion:
How does one classify a restaurant like Chive anyway?  With all of the diversity and different dishes, it seems to defy classification to just one dining category.  From New American cuisine, Traditional, Asian Fusion, to Soul Food, you get to decide what your experience will be by the ingredients you choose.  No matter what you are in the mood for, Chive has got you covered!
Ratings:
Atmosphere – 5 Forks
Service – 5 Forks
Food – 5 Forks
Ratings Scale Legend:
1 to 5 Forks – 1 Bad to 5 Excellent
Little Chive
1785 Old Dixie Hwy, Vero Beach, FL 32960
 8 Royal Palm Pointe, Vero Beach, FL 32960