Join me at Costa d'Este for a full day of food experiences. Get your day started off right when you rise and shine beachside! Not only can you come here to eat and drink all day, but also enjoy the many other experiences they have to offer in between. 7 am three days a week, you'll find your zen during Yoga on the Beach…working up an appetite for the day ahead. After you've perfected your downward dog pose, order the Carnitas Breakfast Tacos. Two flour tortilla tacos piled high with a braised pulled pork, topped with scrambled eggs, manchego cheese, pico de gallo, and fresh guacamole. Switch it up and order with chorizo if you're feeling a little spicy.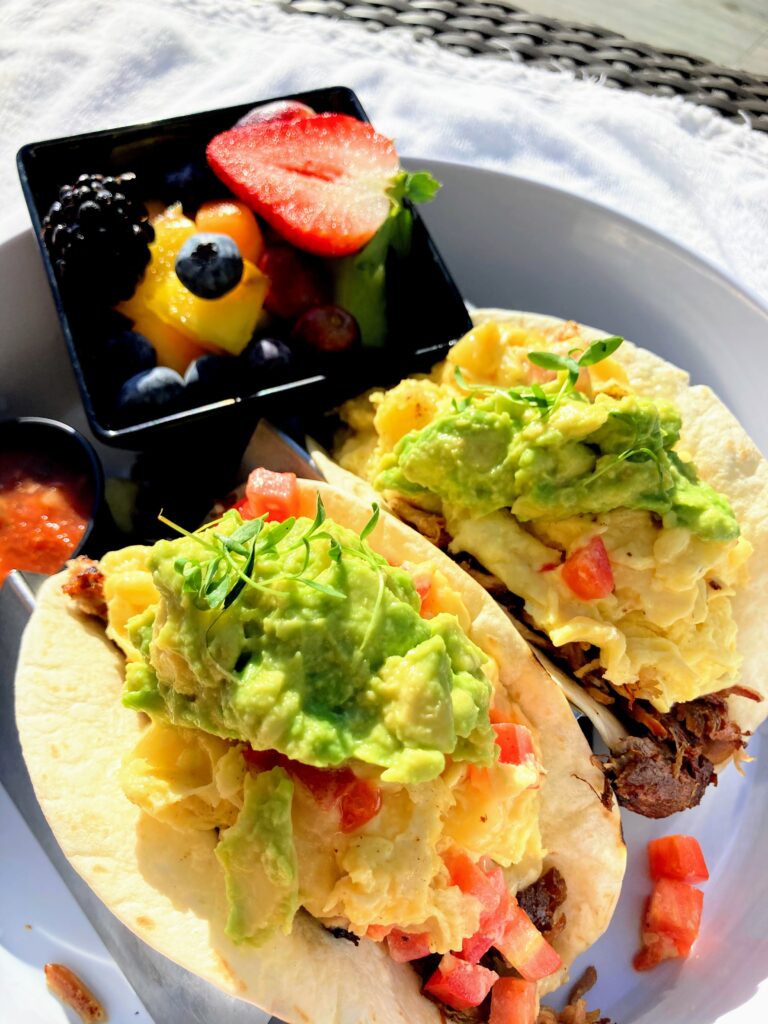 You can pair these with fresh fruit or potatoes…was drawn to the healthier fruit option for the morning. After a hearty yet healthy reboot breakfast, you can hit the waves by paddleboard or kayak through their beach team, Paddles by the Sea. As a guest of the hotel, you'll enjoy these water toys complimentary during your stay. Not a guest of the hotel, no worries as for a small fee, you can still take part in the water sports or even snag a couple of beach chairs to soak up the sun. Up for a little challenge, paddle out to the Shipwreck about 100 yards offshore, and see all the fish that have made it their home.
Ready for round two…cool off with some Fresh Caught Local Fish Ceviche paired with Plantain Chips. They even have a ceviche duo if you can't decide between the fish or octopus options. Both are amazing and refreshing! Sticking with the taco kick, order the grilled Mahi Fish Tacos. Topped with a cabbage & green mango slaw, pickled red onions, guacamole, and a lime chipotle aioli. Usually, I favor fried fish tacos but haven't gone back to fried after eating these. So flavorful and seasoned perfectly. I don't know about you, but I couldn't be more ready for a massage.
C | Spa offers a variety of relaxing treatments…from the Halo Salt Room to facials, massages, and nail services. Try pairing the Halo Salt experience with the Canna Bliss Massage and you'll be in heaven. They have 100% non-THC CBD oil, so no worries about work thinking you were having too much fun. Last but definitely not least, I'm finally about to embark on dinner! Wave, this Cuban-inspired restaurant, has a great mix of just about everything…and if you literally want everything, just order the Mixed Grill. This is perfect for a shareable plate or can order all to yourself if you can't decide which protein you're in the mood for. It comes with Steak, Grilled Octopus, Sausage, Shrimp, Scallops, Plantains, and Veggies.
Now that you've had your light appetizer, you're ready for the entrees. The newest version of the Scallops entree has a celery root and potato hash, spinach, house-cured pork belly, and an apple butter sauce. Mmm, you will be licking your lips after this sweet yet savory dish. It's a perfect balance! Like your filet mignon to stay hot and sizzling through your entire meal… order it here at the Wave! It comes on a hot stone plate to help keep it warm until the last bite. Do order it a temp less than normal as this will ensure it's perfect for your pallet.
When you're ready… come spend the day at Costa d'Este… your body and belly will thank you!
Cheers!